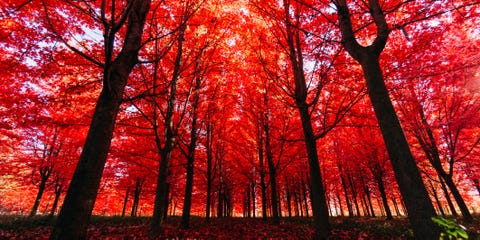 Sadly, summer is nearly over.  As with every year, I always come up with a list of things that I'm going to do, but never get to accomplish much of them for one reason or another.
As fall approaches, it's almost time to put away my sandals (which I never look forward to), and don a light weight jacket.  I love autumn because of the leaves falling off the trees and turning into an array of bright colors; however, some people don't see it that way.
There are those who view the change in season as a death sentence.  They are plaqued by the sun going down earlier because they feel as though they are losing their source of energy.  The sun
and the longer nights really do wonders for them.  However, as we get closer to fall, they find themselves beginning to drag around and/or shutting down beforehand as they brace themselves for the change in season, which leaves them not in the best of moods.  Their happiness is gone, temporarily, until they are able to adjust.  Some people have to take medication during this time to get them through because it's just too difficult to manage without it.     There are some of us who will never understand what this feels like for those people who have to struggle with this every year.  I wished that I could embrace each and every person to assure them that it's going to be okay.
If this is you, please don't ever be ashamed or embarrassed.  Every single person on the face of the earth has something they are dealing with in life (some more than others), and it's real.  We shouldn't just tell people to get over it because we don't know how they are feeling nor should we tell them how fast they should recover.
You should never deal with life's issues alone because that can lead to other things triggering off in your mind and body.  Find a good network of family and/or friends who will love on you when you're going through.  These are the people who won't judge you, but rather have your back.  You may feel as though they can't identify with you, and are afraid you'll run them away or they'll look at you through different eyes once they learn about your secret; however, I beg to differ.  They will be there to support you through your difficult time, and actually want to be there for you whether it's a shoulder to cry on, a listening ear, a prayer or whatever it is you need.  I wished when I was going through my phase of depression that I had shared it with others, so they could have supported me through that period of my life; however, I was just too embarrassed and ashamed to talk about it. The flip side of the coin is that if you shut people out of your life and just disappear, they have no idea what's going on and will most likely think they did something to offend you.  If you don't want to share what's going on, maybe you could say something like, "I just need some alone time right now," instead of leaving them to assume that you no longer want their business.  Always keep in mind, that people aren't mind readers, and are human.
Even though my blog is written primarily for women, men face these issues as well, and should be loved on too; therefore, they shouldn't be left out.
One of my younger cousins posted this on his FaceBook page and I thought it was apropos:
Men get depression.
Men get anxiety.
Men get suicidal thoughts.
Men have mental health illness.
Maybe instead of saying "man up",
Say, "It's okay to talk about it."
Embrace your fears.  
I promise you will get through this.
You're not alone.
Always remember, #GurlYouGotItGoinOn (and Guyz)
Love ya,
Grace